MT4/5 Order Book visualization
FX Blue Labs can collect your open positions and pending orders from MT4/5, and display the book as a web widget or an in-platform indicator for MT4/5. The service can aggregate multiple MT4/5 servers, showing the combined set of positions/orders as a single consolidated view.
The MT4/5 indicator can be locked so that it can only be used by your real-money account holders, or even restricted to a specific list of VIP accounts.
MT4/5 indicator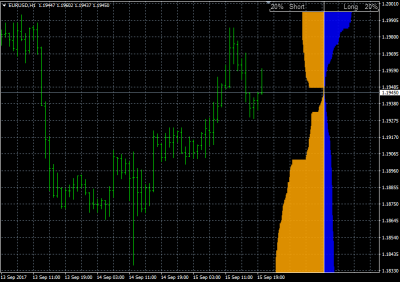 Web widget - example with static data
The indicator and web widget have similar sets of comprehensive features:
Can display either open positions or pending orders (including the s/l and t/p on open positions)
Can display cumulative or non-cumulative figures
Can display volume, or the number of accounts or tickets at each price band
All figures are calculated as percentages of the total (to hide the commercially sensitive information of your total volume and total number of active clients)
Can include any instruments in MT4/5, combining different variants such as EURUSD+ and EURUSD-, and adjusting the volume for "mini" or "micro" instruments
Data is calculated in real time. It can, if required, have caching applied to it so that the figures are up to, for example, 10 minutes old.
The web widget is fully configurable (colours, default settings etc) via options included in its URL, and is available in multiple languages.
Implementation
The service collects your data using the MT4/5 Manager API, building a combined list of positions and orders from multiple MT4/5 servers if required. The Manager account requires only minimal permissions, and does not need to be given trading facilities or access to any client personal or contact information.
The service does not require any plug-ins on your MT4/5 Server, and is available on a hosted basis which can be run from anywhere in the world. The only set-up required from you is providing an MT4/5 Manager account.
Users of the indicator or web widget do not hit your MT4/5 Server(s) directly. They connect to a report server which maintains a single, low-load connection to your MT4/5 Server(s). The number of users of the indicator or web widget therefore does not affect the load on your MT4/5 Servers.
Sentiment data
The same data for building the display of the book of open positions or pending orders can also be used for calculating and displaying long/short sentiment.
Therefore, FX Blue Labs can also provide versions of its sentiment widgets which read their data from your own MT4/5 servers.
You can choose between three ways of calculating the sentiment:
Percentage of accounts which are net-long and net-short (the default)
Percentage of long tickets vs short tickets
Percentage of long volume vs short volume